Bulletin of Japan Society of Coordination Chemistry (BJSCC)
Bulletin of Japan Society of Coordination Chemistry is distributed to our members twice a year.
In this bulletin, hot news about JSCC activities, international conferences, symposia, or societies related to Coordination Chemistry are available. The latest trend of research and information for study abroad are also mentioned, BJSCC is a general information journal of Coordination Chemistry in Japan.
Download full issues (members only, password needed)
Browse published articles (J-Stage, no password)
Table of Contents of the latest issue of BJSCC
Refereed Articles
BJSCC carries refereed articles such as award accounts and reviews, in addition to non-refereed articles such as Topics. We are looking forward to your submissions.
Guide for preparing manuscript
Regulations on citation and reproduction of papers and articles published in BJSCC
Coordination Chemistry Textbook Series (from Royal Society of Chemistry)
JSCC made an agreement with Royal Society of Chemistry (RSC) for publishing Coordination Chemistry Textbook Series from RSC on October 18, 2020. "Organometallic Chemistry (Ed. by Hiroshi NAKAZAWA and Julian KOE)" has been published as the first textbook.
1. Organometallic Chemistry (£70.00)
  (Ed. by Hiroshi NAKAZAWA and Julian KOE)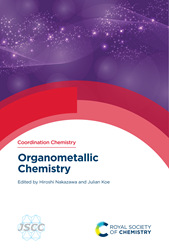 Frontier Series of Selected Books for the Japan Society of Coordination Chemistry
(from Sankyo Shuppan Publisher Co. Ltd.)
1. Frontier Bio-inorganic Chemistry (7,500 yen)
  (Ed. by Shinobu ITO, Shigetoshi AONO and Takashi HAYASHI)

2. High-performance Coordination Polymer Chemistry (8,000 yen)
  (Ed. by Hiroshi NISHIHARA and Kimihisa YAMAMOTO)

3. Nano-Science on Advanced Metal Complexes (7,000 yen)
  (Ed. by Masahiro YAMASHITA and Katsuaki KONISHI)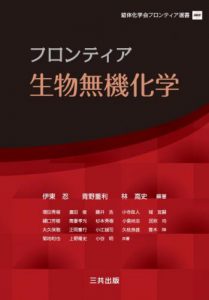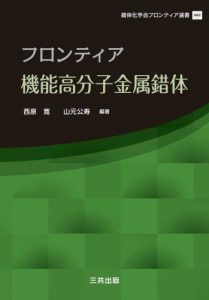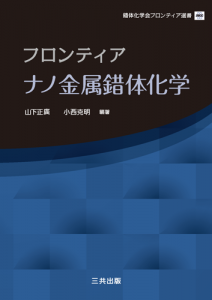 Selected Books for the Japan Society of Coordination Chemistry
(from Sankyo Shuppan Publisher Co. Ltd.)
1. Bio-inorganic Chemistry (4,400 yen)
  (Ed. by Hideki MASUDA and Shunichi FUKUZUMI)
 
2. Photochemistry in Metal Complexes (4,000 yen)
  (Ed. by Yoichi SASAKI and Osamu ISHITANI)

3. Modern Material Chemistry of Metal Complexes (4,900 yen)
  (Ed. by Masahiro YAMASHITA and Norimichi KOJIMA)
 
4. Multi-nuclear NMR Spectroscopy in Solution and Solid States (4,200 yen)
  (Ed. by Susumu KITAGAWA, Motohiro MIZUNO and Masahiko MAEKAWA)
 
5. Supramolecular Metal Complexes (4,900 yen)
  (Ed. by Makoto FUJITA and Mitsuhiko SHIONOYA)

6. Organometallic Chemistry (3,900 yen)
  (Ed. by Hiroshi NAKAZAWA and  Kohtaro OSAKADA)

7. Instrumental Analysis for Metal Complexes
  Volume 1 (4,200 yen), Volume 2 (4,800 yen)
  (Ed. by Hiroki OSHIO)

8. Solution Chemistry of Metal Complexes (4,600 yen)
  (Ed. by Haruhiko YOKOYAMA, Masa-aki TABATA and Masayasu IIDA)

9. Electron Transfer and Electrochemistry of Metal Complexes (3,600 yen)
  (Ed. by Hiroshi NISHIHARA, Akio ICHIMURA and Koji TANAKA )

10. Quantum and Calculation Chemistry for Metal Complexes (7,400 yen)
  (Ed. by Kizashi YAMAGUCHI, Shigeyoshi SAKAKI and Hideki MASUDA)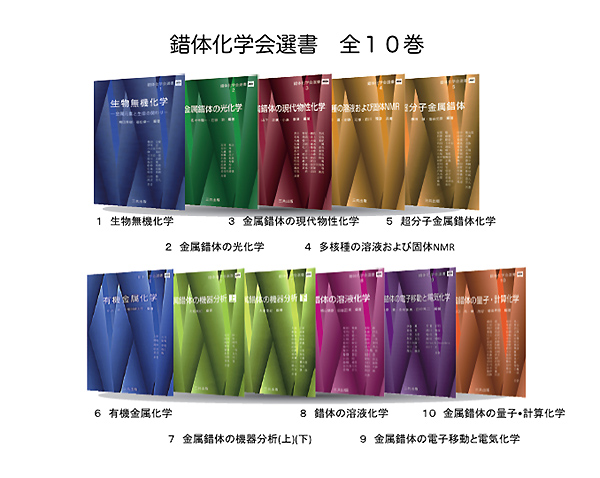 Encyclopedia of Coordination Compounds (from Asakura Shoten Co. Ltd.)
  Encyclopedia of Coordination Compounds (29,000 yen)
  (Eds. By Hisashi OKAWA, Sumio KAIZAKI, Taro SAITO, Yoichi SASAKI, Akira NAKAMURA, Megumu MUNAKATA, Osamu YAMAUCHI and Hisanobu WAKITA and Secreted by Hideki MASUDA)